II Reunión de Extragaláctica en México
2-6 de Diciembre, 2019
Morelia, Michoacán
---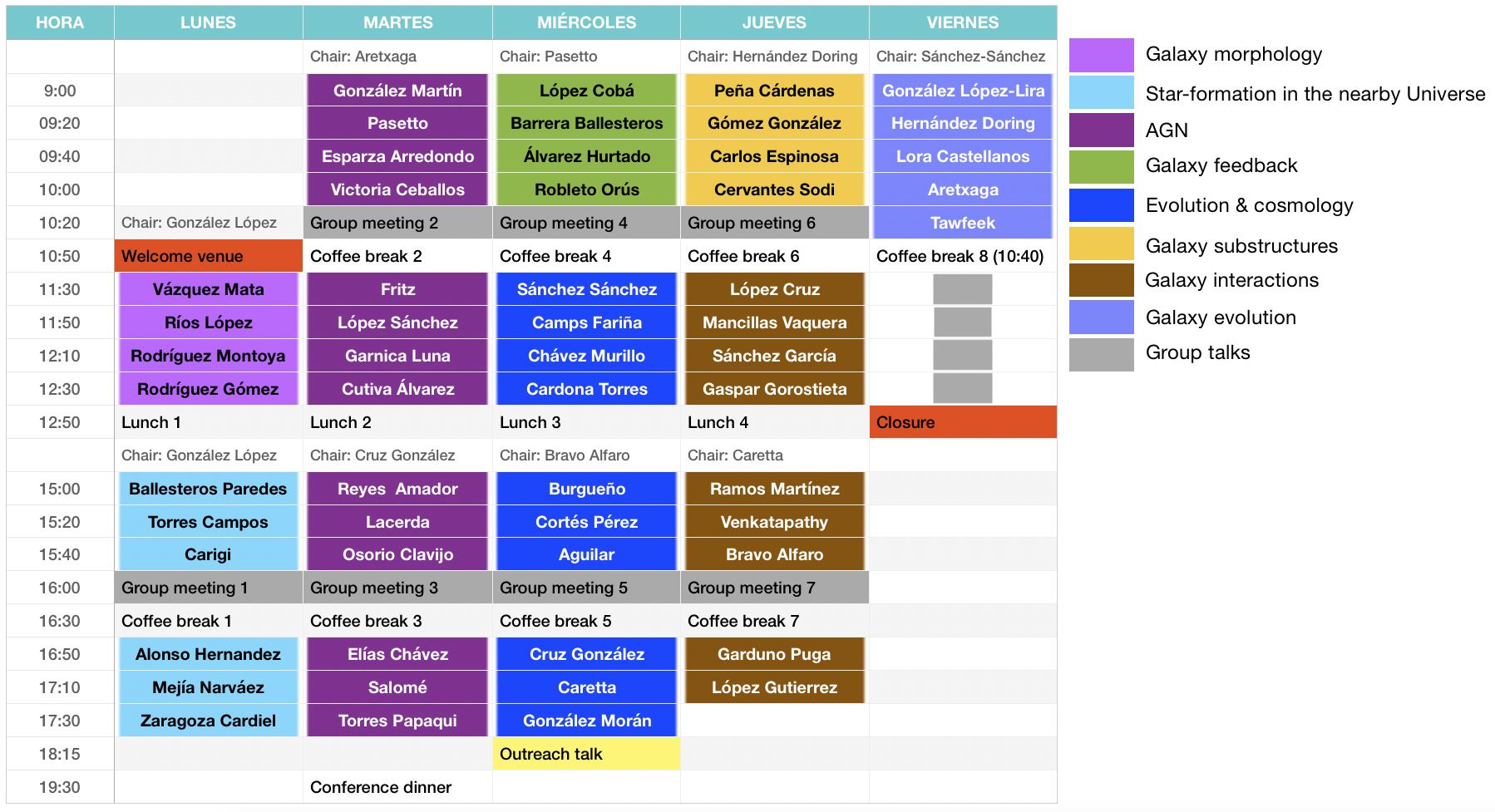 ---
The aim of REM is to join to all the observational and theoretical astronomers working in the field of extragalactic astronomy in the country. Our aim is an informal meeting where we will be able to communicate ongoing or recently finished works to open them to discussion in the community. We think it could be a good opportunity to create networks among Mexican scientists. We would like to host these meetings once a year where the main host could change every year. All of you are invited to this initiative.
The meeting will be hosted in Palacio Clavijero from Monday 2nd until Friday 6th of December. You can find here a map showing how to go from the Morelia's Cathedral to the main door of Palacio Clavijero. We plan to have some indications in the main door to show you the path to the Auditorium. Location of Palacio Clavijero is included in the Hotel's and Restaurant's maps (see below).
Bellow is a list of practical issues. Please, note that we have highlighted the new parts of the text (compared with previous announcement) and also those particular issues where you might want to take an action before the meeting. Please, read them carefully.
---
FIFTH ANNOUNCEMENT
Dear participant,
REM is going to start in a week from now. Just three quick final announcements and a few reminders.
Registration: The meeting will start at 11.00am on December 2 (Monday). Registration will be open from 10.00am. There is nothing special but we need to confirm assistance and details on the dinner (see below).
Dinner: The social dinner is planned to be held on December 3 (Tuesday) in Hotel Alameda (our webpage has a map with the location). The cost will be 400 pesos for senior researchers and 200 pesos for students. We need to pay the dinner in advance so please, be aware you need to confirm assistance and pay for it by Monday in the registration desk. Please, do not hesitate to contact us to inform any dietary restriction.
WIFI: We have settle an internet access point inside the conference room. The details are:
Name: INFINITUMAED8_2.4
Password: 7RDn3caroN
Below some reminders:

Program: The program of the II REM 2019 (December 2-6) is now available. We attach a PDF version of the program to this email and it is also available at https://apps.irya.unam.mx/rem. You can also have access to the titles and abstracts of the talks in https://apps.irya.unam.mx/rem/abstracts/list/
Outreach: We plan to have an outreach talk on December 4 (Wednesday).
Hotels: We have also included a list of hotels in the webpage for you to consider when arranging your accommodation.
Note that the event will be in Palacio Clavijero so any hotel close to the center will be a good choice.

Group meetings: As you will notice, we have included this year collaborative slots into the program. The aim is to get to know the participants and their research expertise. This might be particularly good for students, which are a good portion of our participants this year (pleased about that too!). Without giving much details deliberately, we will put a friendly competition by dividing participants in small groups. Of course, nobody is forced to participate although desired. We will give more information about this at the beginning of the first day of the meeting.
See you all soon!
On behalf of the organizing committee,
Omaira González Martín Bernardo Cervantes Sodi
Doubts/suggestions at rem@irya.unam.mx
REM 2019 webpage: https://apps.irya.unam.mx/rem
---
---
---
---